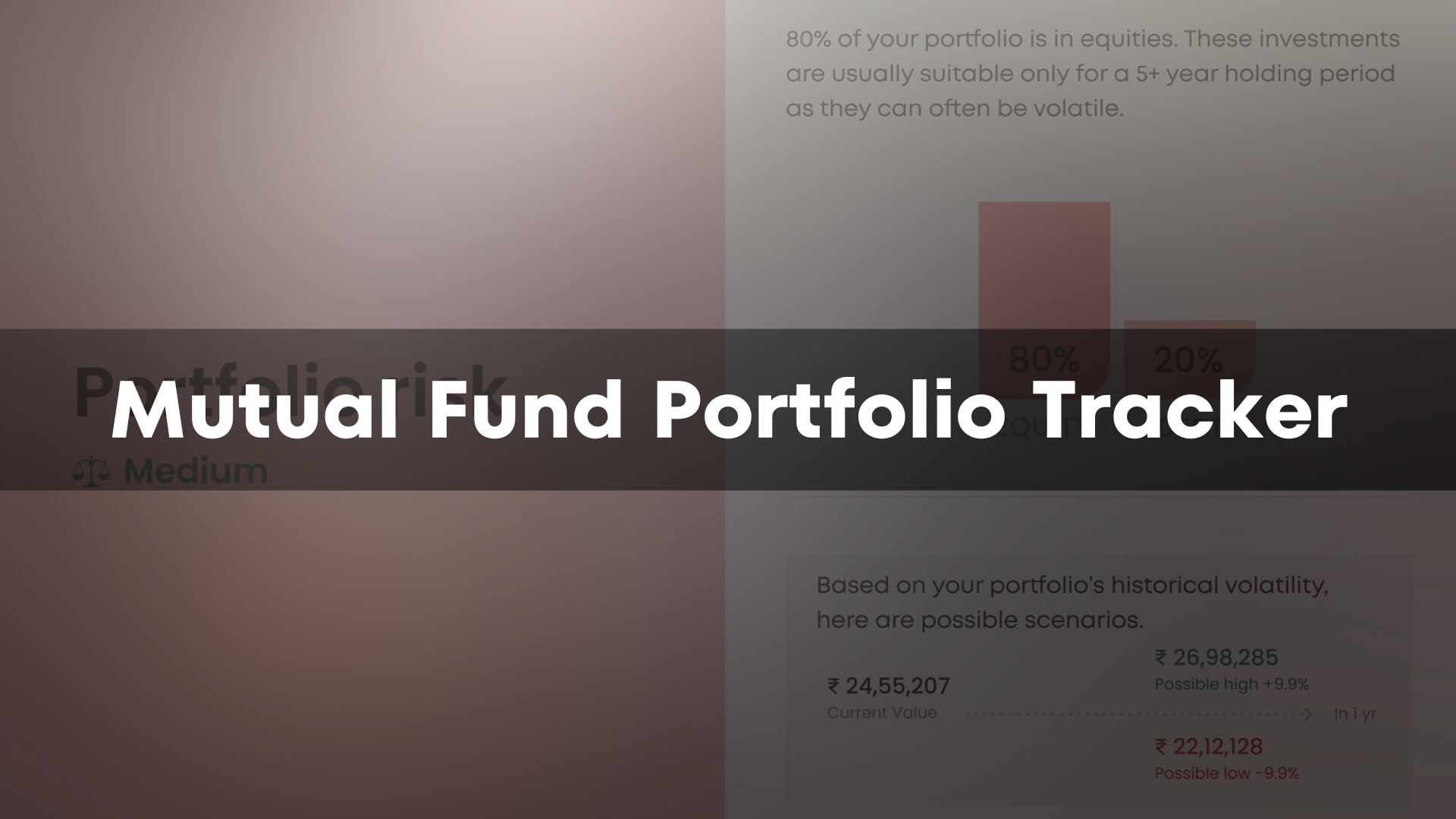 Mutual Fund Portfolio Tracker: Methods and Benefits of Tracking a Mutual Fund Portfolio
By Jupiter Team · · 6 min read
When you start your weight loss journey, you will first check your weight. Firstly, to know much you weigh and second, to know how much you should reduce to reach your target weight. Throughout your weight loss journey, apart from eating right and exercising, you will also track your progress by checking your weight once or twice weekly. If you are on track to reach your goal, you will continue with the same food and exercise, if you feel you aren't reducing, you end up changing your diet and workout schedule.
The same works with mutual fund investments as well. Even though you invest for the long term, you must track the progress. Only then will you know whether your investments are performing well or not. If they aren't, you can replace the underperforming funds with better ones. You can do the mutual fund tracking by yourself, take the help of a financial advisor, or use a mutual fund portfolio tracker. Read to find out more about how to track your mutual fund investments.
How To Track My Mutual Fund Investments?
There are multiple ways to track your mutual funds, and the following are the most popular ones.
1. Online Portfolio Trackers
An online portfolio tracker is a tool that will help track the progress of your mutual fund investments. Several platforms have built online tracking tools which can do more than just tracking. They even suggest better funds in case any fund is underperforming.
One such tool is the Jupiter Portfolio Analyser. It tells how 'sahi' are your mutual fund investments. You need not invest with Jupiter Money to track your mutual funds using this tool. The best part is that it is absolutely free of cost. All you have to do is, enter your email ID in the tool, and it will automatically send CAS to your email ID. You have to forward that email to investments@jupiter.money, and it will send an insightful report to your email, completely free of cost.
The report talks about the health of your mutual funds. It compares it with the NIFTY 50 index and tells how your portfolio performed against it. The tool also tells the sector and equity mix. Additionally, it gives insights on any hidden fees that you can avoid paying, identifies underperforming funds, and detects exposure to high risk.
Hence it is best to use an online tracker to track the performance of your mutual fund portfolio.
2. Mutual Fund Fact Sheet
A mutual fund fact sheet is a one-page document with an overview of mutual fund schemes with special emphasis on the portfolio and the performance. It is similar to a report card but for mutual funds and indicates the health of the fund. Asset management companies (AMCs) release mutual fund fact sheets monthly, which are available on AMC's website.
The fact sheet is a great starting point if you want to start tracking your mutual fund performance. It provides the following information.
Key information about the scheme: It includes general information about the scheme such as name, objective, expense ratio, fund manager and his expertise, assets under management (AUM), net asset value (NAV), portfolio turnover, and modified duration (for debt funds)
Portfolio data: The portfolio of mutual funds may vary based on market movements. Hence, it is important that AMC discloses the portfolio every month. In the fact sheet, the AMC declares the investment details, i.e., where the fund invests the money. It also has details about asset allocation by sector or by the rating of debt securities.
Volatility measures: Since mutual funds are subject to market risk, it is important to check the risk-adjusted returns and other volatility measures. Some of the volatility measures given in the fact sheet are the Sharpe ratio, standard deviation, beta, modified duration, tracking error, and portfolio yield.
Fund performance: The fact sheet includes data regarding the mutual fund returns and SIP (systematic investment plan) returns. It also compares the returns with the benchmark and tells whether the fund has outperformed the market index. It is in this section that you will know how the fund has performed in the previous month.
3. Investment Advisor
If you've invested in mutual funds through an investment advisor, you can ask them to track your mutual fund portfolio to make the most of your investments.
4. Consolidated account statement (CAS)
CAS is a consolidated statement of all financial transactions in a month done under the same PAN (permanent account number) across fund houses and folios. It is sent by CDSL (Central Depository Services Limited) or NSDL (National Securities Depository Limited) to the registered email IDs.
You don't have to wait for a month to get the statement; you can get it online by visiting the CAMS website. You can follow the steps below to get a statement.
Go to the CAMS website and click on MF investors.
Then click on 'Statements' and select 'CAS – CAMS' to get a consolidated view of your mutual funds across RTAs (registrars and transfer agents).
Next, enter your registered email ID and provide a password for the document.
An email will be sent to your email ID. To open the document, enter the same password to access your CAS.
5. Asset Management Company Website or Mobile App
You can view the performance of your mutual funds by logging into the website or app of the fund house. For example, if you've invested in Aditya Birla mutual fund, you can log in to their portal to track the performance of your fund. However, if you've invested in mutual funds or multiple AMCs, this method can be time-consuming. Hence it is better to use an online portfolio tracker, which will display all your mutual fund investments in one place.
Why should you track your mutual fund investments?
Mutual funds are marketable securities. Hence their performance keeps differing based on market conditions. Therefore, it is important to track their performance regularly. Following are some of the reasons why you must track your mutual fund portfolio.
Tracks goal progress: Since you will invest based on goals, tracking the progress towards your goals is easy by tracking your mutual fund's performance. If you aren't earning enough returns to meet your goals, then you can change your portfolio.
Informed decisions: By tracking your portfolio's performance, you can make informed decisions regarding it. You can increase or decrease your investment in a fund based on its performance.
Rebalancing: Market volatility changes the asset allocation of your portfolio. By tracking the portfolio, you can rebalance it to the desired asset allocation.
Frequently Asked Questions
How do I track my mutual fund portfolio?
You can track the performance of your mutual fund portfolio through CAS or online mutual fund portfolio trackers.
What is the best free portfolio tracker?
The best portfolio tracker is the one that not only tracks the portfolio but also gives useful insights about the expense ratio, risk, and diversification. Jupiter Money's portfolio analyser does all this free of cost.
Can I track Mutual Funds with PAN number?
Yes, you can track your mutual funds with a PAN number on the CAMS website.
Can Excel track mutual funds?
Yes, you can track your mutual fund investments using Excel. You can create a table for all your mutual funds and keep updating the NAVs to track their performance.
Does Google Finance track mutual funds?
Yes, you can track mutual funds using Google Finance, a function of Google Sheets. You can update the NAVs automatically using this function to track the performance of your mutual funds.
Can I track all my investments in one place?
Yes, you can track all your investments in one place using online portfolio trackers. Several apps such as My Cams, Groww, ET Money, and Money Control have portfolio tracker tools that will help in tracking all your investments in one place.
In this article
Similar articles that might interest you!