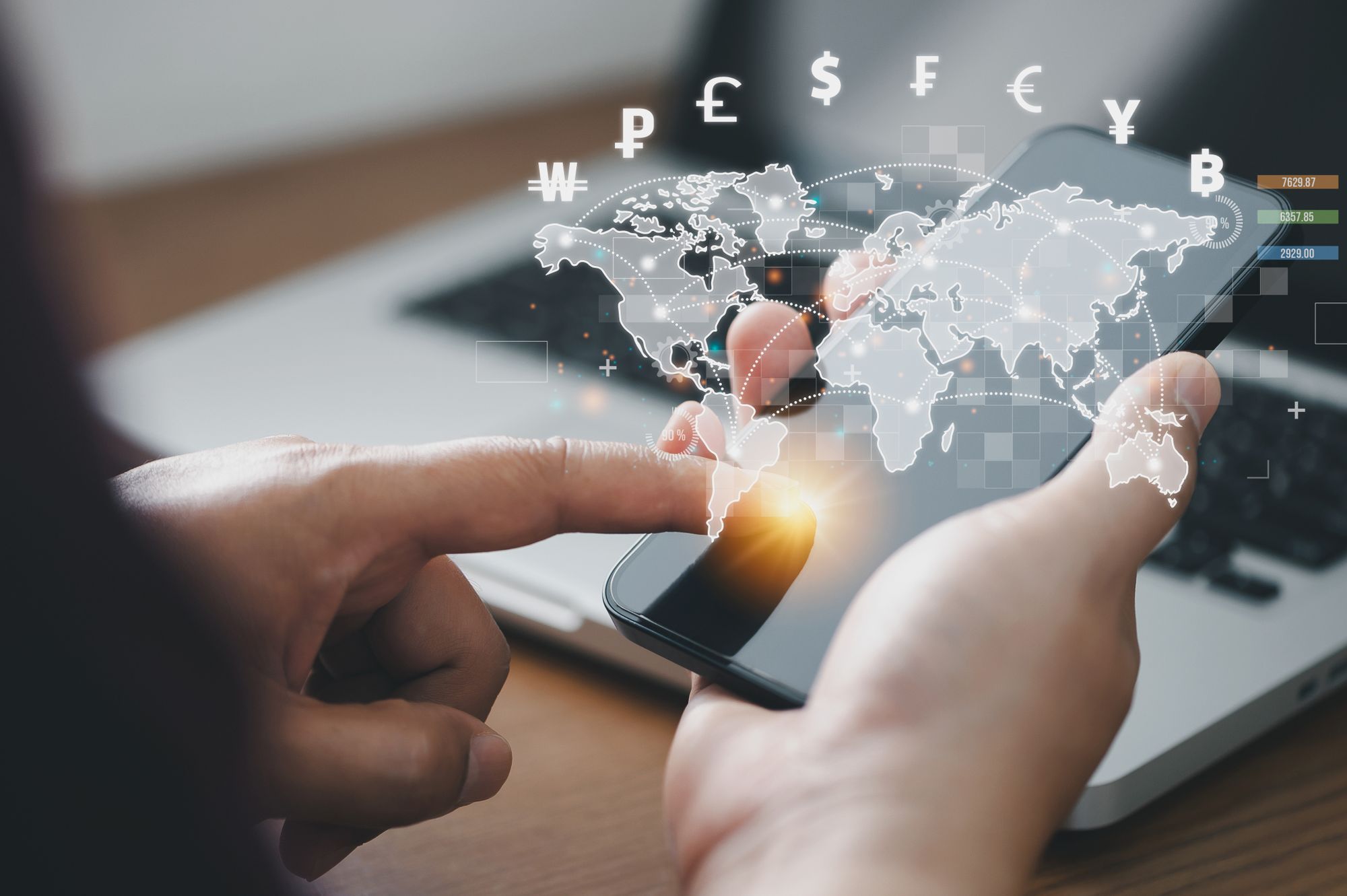 16 Best International Money Transfer Apps To Send Money Abroad - Updated List for 2023
By Jupiter Team · · 7 min read
As of March 2022, India had reportedly sent $1547.80 million in international transactions. Of this volume, travel and education dominated the cause (among others) as the world springs back to pre-COVID-19 times.
Banks, money exchangers, some travel agencies, and some non-banking financial organisations (NBFCs) have typically helped Indians send money abroad. But these legacy channels may not always prove reliable.
This is where new-age international money transfer apps come into the picture. They're swift, easy to use, reliable, safe, and, above all, cost-effective. The best international money transfer app on the market could allow you to send money abroad without any hassle.
The article will guide you through the best international money transfer app in India that you can use from the comfort of your mobile phone or tablet.
How to Transfer Money Internationally Online?
Sending money abroad, also called outward remittance, is critical to many people in India. However, sending money abroad can also be expensive, particularly if you are unaware of the additional expenses.
When it comes to sending money abroad, Indians typically rely on only traditional sources, such as bank transfers (via net banking), P2P transfers, and debit and credit cards. Banks and money transfer providers make money by charging you a transfer fee as well as, frequently, a covert markup on the exchange rate.
Although these options are viable, they have high fees and hidden charges associated with them. Instead, we recommend using international money transfer apps, as they provide the best exchange rates with the least processing fees.
16 Best International Money Transfer Apps
With so many different apps available for sending money abroad, it can be hard to choose the best one. Below is our comparative list of the 16 best international money transfer apps in the market:
1. Jupiter
Experience worry-free money transfers with Jupiter:
Zippy-fast transfers in 15 currencies
Live tracking and transparent pricing for peace of mind.
Swift processing and Assured Same-Day Transfers*
Partnered with Muthoot Forex, which is an AD-II licensed organisation issued by RBI for international money transfers.
Astounding customer support to address your concerns promptly.
Choose Jupiter for secure and efficient international money transfers.
Try Jupiter's International Money Transfer Now!
*If transfer initiated before 2:30 PM on a working day. 4 out of 5
money transfers get completed the same day
2. Western Union
It is the world's largest foreign money transfer service, with an enormous network of cash pickup locations globally. Various pay-in options are available (bank transfer, cash, credit card, etc.), and numerous payment channels (agent locations, website, mobile app, and telephone) are there to choose from. The exchange rates are also reasonable.
Please note that this is not the cheapest money transfer option available. Their online customer support is somewhat limited, and about 90% of hidden charges and fees are not transparent.
3. Remitly
Remitly offers an excellent choice for cash pick-ups with support in over 130 destination countries. It offers a variety of pay-in and pay-out options to its customers. On the flip side, the website and the app are outdated, with 35% of fees hidden in the exchange rate margin. And only a limited number of countries of origin are supported.
4. TransferGo
TransferGo is known for consistently offering the cheapest rates on international money transfers, especially to Europe. It offers a variety of pay-in and pay-out options. But the support is limited to a small number of origin countries, with 35% of hidden charges and fees being non-transparent.
5. Revolut
Transactions via debit cards are priced well at Revolut, which also offers an option for investments. Banks and currency options are extensively supported, and the mobile app has many features and is well-designed. Also, foreign money transfers up to Rs. 95,000 are exempt from any fees.
Sadly, some foreign transactions incur a fee, and the currency conversion costs are higher on weekends. Moreover, access to premium features is restricted for the 'Standard' account customers.
6. Skrill
Skrill offers very low exchange rates and fees and provides excellent customer service. Many countries and currencies are supported, and the transactions are fast, secure, and convenient. It also offers many pay-in options for debit and credit cards.
On the other hand, the currencies available depend on the origin country. Its exchange rates and fees are hidden under non-transparent margins and support only bank accounts and mobile wallets for the destination country.
7. Insta-Rem
Insta-Rem is easy to use and offers fast transactions. The overall exchange rates and fees are not very expensive. On the other hand, their registration process is very slow, and they have terrible customer service. Moreover, it has limited coverage in Africa and Latin America (only in Mexico).
8. MoneyGram
MoneyGram offers various pay-in options and supports 50 currencies in over 200 countries. It is a very large and reputable organisation with a vast service history. On the flip side, it offers very low maximum transfer limits, while 90% of hidden charges and fees are not transparent. The exchange rates are more expensive, and there is an inconsistency in the exchange rates with the rate shown on the website.
9. Wise
Wise offers a zero exchange rate margin where fees are low and transparent. A large number of pay-in options are supported and are considered the cheapest international payment app of all time. The mobile app is designed well and the interface is beautiful.
However, transfers can take 2-3 days, and cash pickup services are not available.
10. WorldRemit
WorldRemit has excellent customer support—a crucial factor for a reliable online remittance service. It has a large network of cash pickup locations and various options for sending and receiving money. The downside is that its exchange rates and fees are not always cheap and are practically non-transparent.
11. Ria Money Transfers
Ria Money Transfers has a "no-minimum transfer" policy and supports 160 countries and 40 currencies. This means users are free to transfer any amount without having to worry about a transfer surcharge. It is the world's third-largest money transfer service, with a very long history of service that provides a variety of pay-in options (such as bank transfer, cash, credit card, etc.).
Ria Money Transfer is not very cost-effective when compared to its competitors. Its exchange rates vary depending on the pay-in method; for instance, fees for payment via credit card or cash can be expensive, and origin countries are limited to the US, UK, Canada, and Australia (India is not included). Ria has a restricted maximum transfer limit (Rs. 2.46 lakh per transfer, Rs. 6.58 lakh per month).
12. Xoom
Xoom is highly rated by customers on both the App Store and Play Store. It offers many fast and easy pay-in and pay-out options with destinations all over the world. On the downside, hidden fees are very high (74%), and they are very rarely the optimum choice for sending money. Moreover, very few origin countries are supported.
13. Remit2India
Remit2India has been in the business for a long time, with a vast and expanding history. They support high ticket prices and provide 24/7 customer support. But they are a viable option only if your transfer amounts exceed Rs. 41,125. For amounts lower than that amount, they are known to charge very high fees. Also, their exchange rates are very high when compared to the competition.
14. ecoPayz
ecoPayz offers transactions with low fees support 54 currencies and cryptocurrencies and offer free transactions within ecoPayz. The drawbacks: it has a very confusing VIP and membership program, and its lower exchange rates and cashback are only available to its "Highroller Premium" members.
15. SBI California
SBI California is a subsidiary branch of the uber-popular and trusted State Bank of India. SBI California has its head office in California, hence the name. SBI California offers competitive exchange rates for its transactions, but it has its caveats as well. Its services are supported only in the USA and India, and the exchange rate scales with the transaction amount.
16. ICICI Bank Money2India
ICICI Bank Money2India has been in service for many years. The exchange rates offered by this organisation are highly competitive, and their customer service is fast and impressive. However, please note that under our recommendations, ICICI Bank Money2India is a viable option only if you are sending/receiving between the UAE and India.
On the other hand, the transactions can typically take more than four days, and the website and app are poorly designed and outdated.
Key Takeaway
By following a few simple tips, you can make an international money transfer to India efficiently. Remember to check the guaranteed rates offered by different services. Be aware of any hidden fees that may be charged and compare the current-day exchange rates to get the best deal. With these tips in mind, you can choose the best international money transfer app to send money overseas without breaking the bank.
FAQs
How Do Money Transfer Apps Work?
With international money transfer apps, you can transfer money quickly and easily. Some apps store your money and others transfer it from one bank to another. Some money transfer apps are specifically designed for the specific needs of consumers.
Are Money Transfer Apps Safe to Use?
In general, international money transfer apps offer robust security features to protect your money. However, it's important to understand that if you send money to the wrong recipient, your money may not be returned. Vendors may not help recover misdirected funds. Only send money to people you know and trust.
What are the fees and charges applicable while transferring money abroad?
The fees and charges associated with international money transfers can vary depending on the provider you use. Some banks or international money transfer apps may charge a flat fee for the transaction, while others may charge a percentage of the total amount being sent. There may also be other charges, such as conversion fees if you're sending money in a different currency.
How to transfer money internationally?
The process for transferring money internationally can vary depending on the provider you use, but there are generally a few steps involved.
First, you'll need to set up an account with a bank or international money transfer app that offers international transfers.
Then, you'll need to add your recipient's information, such as their name and bank account number.
Once everything is entered, you'll be able to review the details of your transaction and confirm it. After that, the funds will be sent and should arrive within a few days.
How many days does it take for the settlement of an international money transfer?
The timeline for an international money transfer can vary depending on a few different factors, such as the method used and where the funds are being sent. If you're using a bank-to-bank transfer, it could take several days.
Keep in mind that weekends and holidays can also affect how long it takes for the funds to be received by your recipient.
In this article
Similar articles that might interest you!