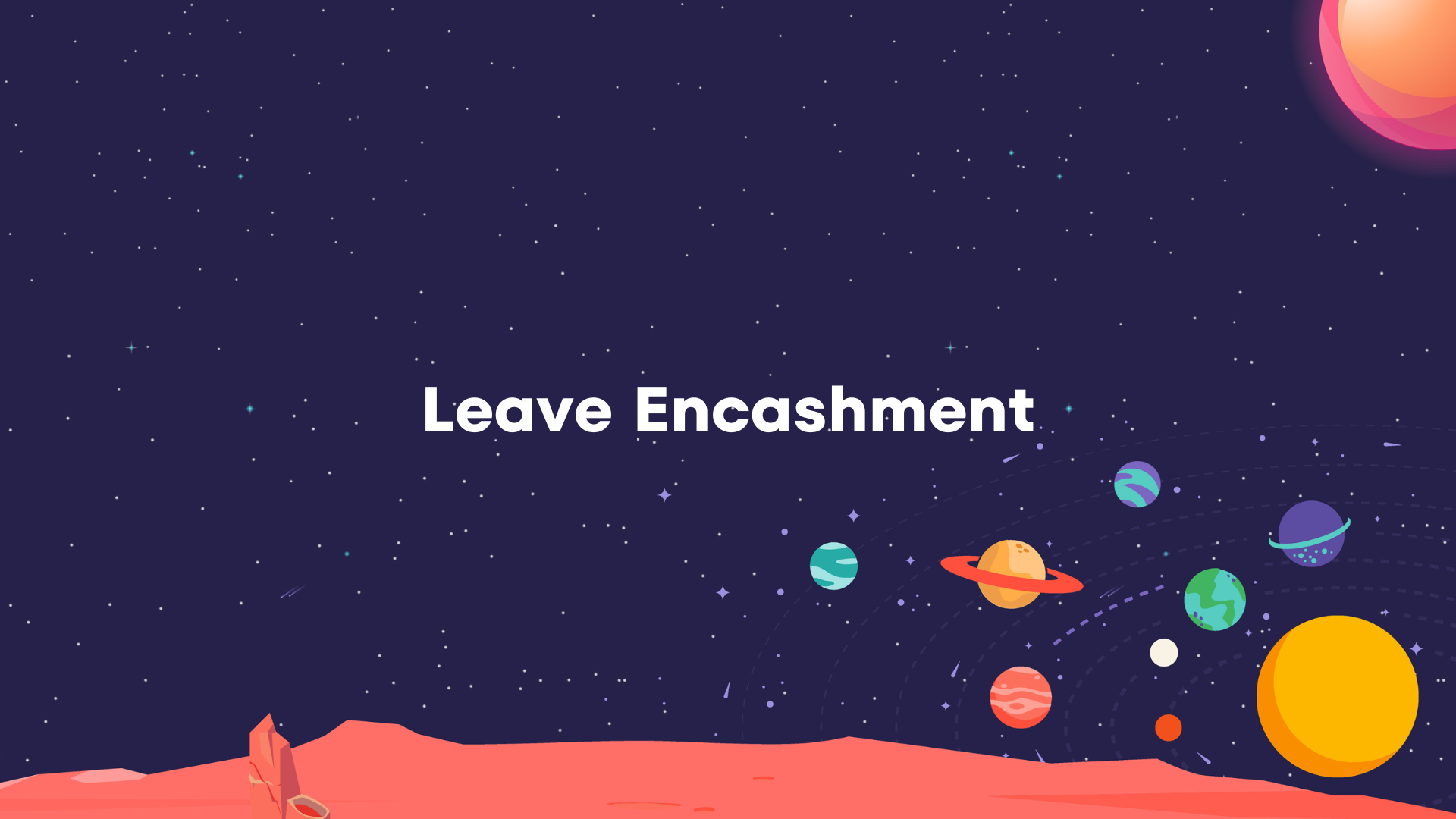 Understanding Leave Encashment - A Practical Guide
By Jupiter Team · · 13 min read
In accordance with Indian labour laws, each employee is entitled to a certain number of paid holidays annually, which are among the benefits offered by their employer. If an employee does not utilize all of their entitled leave, they have the option to receive payment for the unused days, which is known as leave encashment.

Leave encashment is an important part of your employment contract, so it's important to understand what you need to know. Knowing how leave encashment works will help you plan for your time off and ensure that you're taking full advantage of the benefits you've earned. In this article, we'll discuss what leave encashment is, how it works and when it can be used.

What is Leave Encashment?
Leave encashment refers to the process of an employee receiving payment in exchange for their unused paid leave days, such as vacation or sick leave, that are entitled to them by their employer. In other words, instead of taking time off from work, an employee can choose to receive compensation for the equivalent number of leave days they have accumulated but not used. The terms of leave encashment, including the maximum number of days that can be encashed, are usually determined by the employer's policies or local labour laws.
What is the Limit of Leave Encashment Exemption in Budget 2023?
The Indian government has recently increased the tax exemption limit for the salaried person on leave encashment on separation from non-government salaried employers from Rs. 3 lakh to Rs. 25 lakh, according to the latest Budget announcement made by Finance Minister Nirmala Sitharaman. The term "separation" includes various events such as retirement, resignation, or any other circumstances that lead an individual to leave their job.

The previous limit of Rs. 3 lakh was set in 2002 when the highest basic pay in the government was Rs. 30,000 per month. Sitharaman's proposal is in line with the increase in government salaries and aims to offer more financial relief to non-government employees. This increase in the tax exemption limit will provide non-government employees with the opportunity to receive higher tax exemptions on their leave encashment benefits, thereby enabling them to better utilize their accumulated leave days.
What Are the Different Types of Leaves Offered in an Organization in India?
1. Casual Leaves
Casual leave is the most popular type of leave that employees request to take time off for vacations, rest, family events, or simply to unwind and recharge. It is an essential component of maintaining a healthy work-life balance for employees. As individuals must be able to have a life outside of work, having time off to travel, attend events, participate in important life events, and spend time with family is crucial.

Providing adequate casual leave options is vital to ensure employees have enough time to focus and prioritize life when needed. This leads to employees feeling valued and appreciated by their employers. In India, companies typically offer one to two casual leaves per month, with the exact number varying from state to state. Although there is no legal provision specifying the number of casual leaves, most companies provide employees with eight to fifteen casual leaves annually.

It is important to note that casual leaves cannot be clubbed with other types of leaves and cannot be carried forward or encashed. These restrictions help ensure that employees use their allotted leave days to maintain a healthy work-life balance throughout the year.

2. Earned Leaves or Privilege Leaves
A privilege or earned leave is an annual entitlement for employees who work in a company for a year. In India, the customary practice is to offer 18 earned leaves to employees, but the exact number of privileged leaves can vary from one organization to another. If employees wish to utilize their earned leave days, they are required to obtain formal approval from their managers in advance.

Typically, unauthorized absences are adjusted against earned leaves. Employees are usually motivated by their earned leaves mentioned in their employment contract, as these annual leaves can be encashed if they are not used within the year. This feature allows employees the flexibility to utilize their earned leaves according to their needs or encash them for additional financial benefits. In addition, earned leaves can also help promote employee well-being and work-life balance by providing a much-needed break from work-related stress and responsibilities.

3. Medical or Sick Leaves
Sick leave is an essential component of an employee's benefits package that allows them to take time off to recover from an illness or injury. It is a critical provision for ensuring the health and well-being of employees and is designed to enable them to take time off without losing pay.

The requirement and provisions around sick leave can vary depending on the country of operation, making it important for companies to consult with lawmakers to ensure compliance with relevant laws and regulations. In India, companies are required to provide their employees with a minimum of 15 days of sick leave per year. However, this is only a minimum requirement, and companies should be flexible with the number of sick leaves they provide to employees in case of severe health issues.

Offering adequate sick leave options can help promote employee well-being, job satisfaction, and productivity. It allows employees to focus on their recovery without worrying about losing their wages, reducing financial stress, and promoting a healthy work-life balance.

4. Holiday Leaves

Public holidays are designated mandatory holidays that are observed by every country. In India, public holidays include important events such as Independence Day, Republic Day, Diwali, Holi, Mahatma Gandhi Jayanti, and many others. Employers are obligated to allow their employees to take the day off on these public holidays.

These mandatory holidays are a critical component of an employee's work-life balance, allowing them to take time off work to spend with family and friends, observe important cultural events, and recharge themselves. Additionally, these holidays play a significant role in promoting national pride and cultural diversity, which are essential for a healthy and vibrant society.

Employers should ensure that their employees are informed of upcoming public holidays and any associated changes to their work schedules. Providing ample notice and flexibility around these holidays can help foster a positive and productive work environment, where employees feel valued and respected.
5. Maternity Leaves
Working women often face challenges in balancing their family planning needs with their career aspirations, especially when it comes to taking time off for pregnancy and childbirth. To support and empower women in this regard, many companies offer maternity leaves.

In India, women have the legal right to take up to six months of maternity leave for the management of pregnancy and postpartum recovery, as per the Maternity Benefit Act of 1961. Women can also avail of maternity leave in case of miscarriage or abortion. The duration of maternity leave offered may vary depending on the employer, and it is typically the most extended break provided among all types of leaves for employees.

Under the law, women employees can also extend their maternity leave for up to 16 months without the risk of termination. However, it is at the company's discretion to decide how many days of this extended leave duration will be unpaid.

By offering maternity leave, companies can promote gender equality and support the health and well-being of their employees. It also helps to reduce the gender gap in the workplace and allows women to balance their personal and professional lives effectively.
6. Sabbatical Leaves
Sabbatical leaves are becoming increasingly popular among companies looking to retain talent and promote employee well-being. This type of leave offers employees the chance to take an extended break from work to pursue personal or professional growth opportunities. Whether it's taking time off to travel, study, volunteer, or simply recharge, sabbatical leave provides employees with the chance to return to work refreshed and re-energized.

While there is no legal requirement for companies to offer sabbatical leave, many employers recognize the benefits of providing this type of leave to their staff. Sabbatical leave policies vary from company to company, with some offering paid sabbaticals, while others offer unpaid leave. Typically, employees must have worked for a certain period before being eligible for sabbatical leave, and approval is subject to the company's discretion and business needs.

Sabbatical leave provides employees with the opportunity to pursue personal and professional development, which can benefit both the individual and the company in the long run. Companies that offer sabbatical leave demonstrate their commitment to employee well-being and development, which can lead to increased employee loyalty and productivity.
7. Paternity Leaves
As women are entitled to maternity leave, male workers also have the right to paternity leave. Paternity leave is an essential type of leave that enables new fathers to spend time with their newborn child and support their partners. It is still not widely prevalent in many private companies, but some reputed organizations such as Google, Microsoft, and IBM offer paternity leave in India.

The duration of paternity leave may vary depending on the company's policy. However, it is usually a few days to a couple of weeks. Paternity leave is typically offered during the final days of pregnancy or immediately after the baby's arrival. It is important to check with your company's HR department to understand the company's paternity leave policy.

The introduction of paternity leave reflects the changing dynamics of the modern family and recognizes the critical role that fathers play in childcare. Paternity leave allows new fathers to bond with their children and provide support to their partners, which can have a positive impact on the entire family.

8. Marriage Leaves
Marriage leave is a type of leave offered by some companies to allow employees to take paid time off for their own wedding or the wedding of a family member. This type of leave is more commonly offered in India than in other countries. Marriage leave is usually provided to allow employees to participate in their wedding ceremonies and to give them sufficient time to prepare for the event. The duration of the leave and the eligibility criteria depend on the company's policies. Typically, the leave ranges from two days to a week, and employees need to provide proper documentation to prove their marriage or their family member's marriage.

9. Bereavement Leaves
Bereavement leave is a type of leave offered to employees in the event of a family member's death. Though there is no legal requirement for companies to offer bereavement leave, many organizations do provide it as a compassionate benefit. Bereavement leave is a relatively new concept in India, but it is an essential one. Employees need time to grieve and handle legal formalities after the death of a family member, and bereavement leave enables them to do so without losing pay.

The duration and number of bereavement leaves offered vary among companies. Still, they typically range from one to five days, depending on the employee's relationship with the deceased family member. Employers may also require proof of the death or ask for the employee's relationship with the deceased before approving bereavement leave.

10. Half-Day Leaves
When employees need to take care of minor responsibilities like attending a doctor's appointment, attending a PTM or going to the bank, they may opt for a half-day leave. Half-day leave allows employees to have a better work-life balance by taking care of personal and professional responsibilities.

While there is no legal provision for half-day leaves in India, most companies offer them as a way of accommodating employees' personal needs without having to take a full day off. Generally, half-day leaves can be taken either in the first half of the day or in the second half, and the duration of leave is typically four hours. Some companies may allow employees to take more than one half-day leave in a month, but this varies depending on the organization's policy.

11. Unpaid/ Loss of Pay leaves
Loss of pay leave, also referred to as unpaid leave, is an option for employees who need to take time off work but have exhausted all their paid leaves. It is not classified under any specific category of leave, and the employer has the right to deduct the salary for the duration of the leave taken.

Employees can request loss of pay leave for various reasons, including personal emergencies or unexpected circumstances. However, it is essential to note that companies may have specific policies and procedures for granting loss of pay leaves, which employees should be aware of.

Taking a loss of pay leave can have financial implications for employees, and it is crucial to plan for it accordingly. It is also advisable to discuss the leave with the employer in advance and have clarity on the terms and conditions associated with it.

12. Compensatory Off Leaves
Compensatory offs or comp-offs are a way for companies to recognize and appreciate the hard work of their employees who work on non-working days or put in extra effort to complete their assignments. These off days are given to employees as a reward for their dedication and commitment to the company.

Comp-off policies vary from one company to another, and they can be given in the form of extra paid leaves or time off. Employers usually track the extra hours worked by employees and offer comp-off accordingly.
Comp-off policies are beneficial for both employees and employers.

Employees get additional time off, which they can use to rest and recharge, and employers get motivated employees who are willing to put in extra effort when required.

13. Menstruation Leaves
Some companies have started to recognize the need for menstrual leave as a way to support the well-being of their female employees. Menstruation leave allows women to take time off during their menstrual cycle to manage their physical and emotional health. While not yet widespread in India, some of the largest companies, such as Swiggy, Zomato, and Byjus, have begun to offer this type of leave. By providing menstruation leave, companies can show that they prioritize their employees' health and well-being, and it can also contribute to creating a more inclusive and equitable workplace culture.

Is Leave Encashment Taxable?
When a Central or State Government employee retires or resigns, any leave encashment they receive is completely exempt from tax. Similarly, if a deceased government employee's legal heirs receive leave encashment, it is also completely exempt.

1. Leave encashment received during service: If an employee receives leave encashment during the tenure of their job, it is fully taxable and treated as a part of their income from salary. However, under Section 89 of the Income Tax Act, an employee can claim tax relief for leave encashment. They need to fill up Form 10E and submit it online on the income tax portal.

2. Leave encashment during resignation and after retirement: When an employee resigns or retires, they may receive leave encashment, which can be exempted under Section 10(10AA) of the Income Tax Act. However, the amount of exemption differs between government and non-government employees. For government employees, leave encashment is completely tax-free at the time of retirement. In contrast, non-government employees are eligible for partial tax savings.

Leave Encashment Exemption with an Example
To illustrate the concept of leave encashment exemption, let's consider the case of Mr. A, who is retiring after 15 years of service. During his employment, Mr. A was entitled to 35 days of paid leave per year, which adds up to a total of 525 days of leave over his entire tenure. However, he has used only 200 days of paid leave, leaving him with 325 days of unutilized leave.

At the time of his retirement, Mr. A's basic salary plus DA was Rs. 33,000 per month. He received Rs. 3,57,500 as leave encashment, calculated based on the number of unutilized days (325) multiplied by his daily salary (Rs. 1,100).

The recent increase in the exemption limit from Rs. 3 lakh to Rs. 25 lakh makes this option more attractive for retiring non-government salaried employees like Mr. A. However, it is essential to consider the employer's leave encashment policy and an individual's income and tax planning needs before making a decision. Inflation costs should also be factored in while making this decision.

Leave Encashment Calculation: How to Calculate Leave Encashment?
Leave encashment is a process by which an employee can choose to receive payment for unused leaves, in addition to their regular salary. To calculate the amount of leave encashment, a formula is used that takes into account the employee's basic salary, dearness allowance and the number of days of leave being encashed.

The formula to calculate the leave encashment amount is as follows:
Leave Encashment Amount = (Basic Salary + Dearness Allowance)/30 x Number of Leave Days

The basic salary refers to the fixed amount paid to an employee before any allowances or bonuses are added. Dearness Allowance is a component of salary paid to mitigate the impact of inflation on employees.

The number of leave days is the number of days for which the employee is eligible to receive payment for unused leaves.

Using this formula, the leave encashment amount can be calculated accurately, and the employee can receive the appropriate amount for their unused leaves.

FAQs
1. How many days of leave can be encashed?
To ensure that leave encashment does not become a financial burden on the employer, there is a maximum limit set for it. As per the current regulations, non-government salaried employees cannot encash more than 300 days of leave. Furthermore, the calculation of leave encashment is done on a monthly basis, with only a maximum of 30 days considered in a month.

To simplify this, it means that an employee can encash up to 10 months of leave, based on the 30-day calculation. Additionally, the leave encashment amount is based on the last drawn basic salary and dearness allowance (DA) of the employee.

2. Is leave encashment compulsory in India?
Every organization is required to provide earned leaves to its employees under labor laws. Earned leave can be converted into cash through a process known as Leave Encashment, which is typically availed of by employees.
3. Will leave encashment be taxed for the deceased husband/wife/parents after the final settlement from the employer?
If a deceased employee's legal heirs receive the amount of leave encashment, it will be fully exempt from tax.
4. Can I encash my unused leaves?
Certainly, employees are entitled to encash their accumulated leaves during their employment tenure or when they retire or resign from the organization.
5. Which leaves cannot be encashed?
Maternity leaves ranging from 12 to 26 weeks are exclusively available to female employees during pregnancy, with the option to request an extension. It's important to note that these leaves are not eligible for encashment, and no payment shall be made for any additional extension period.
In this article