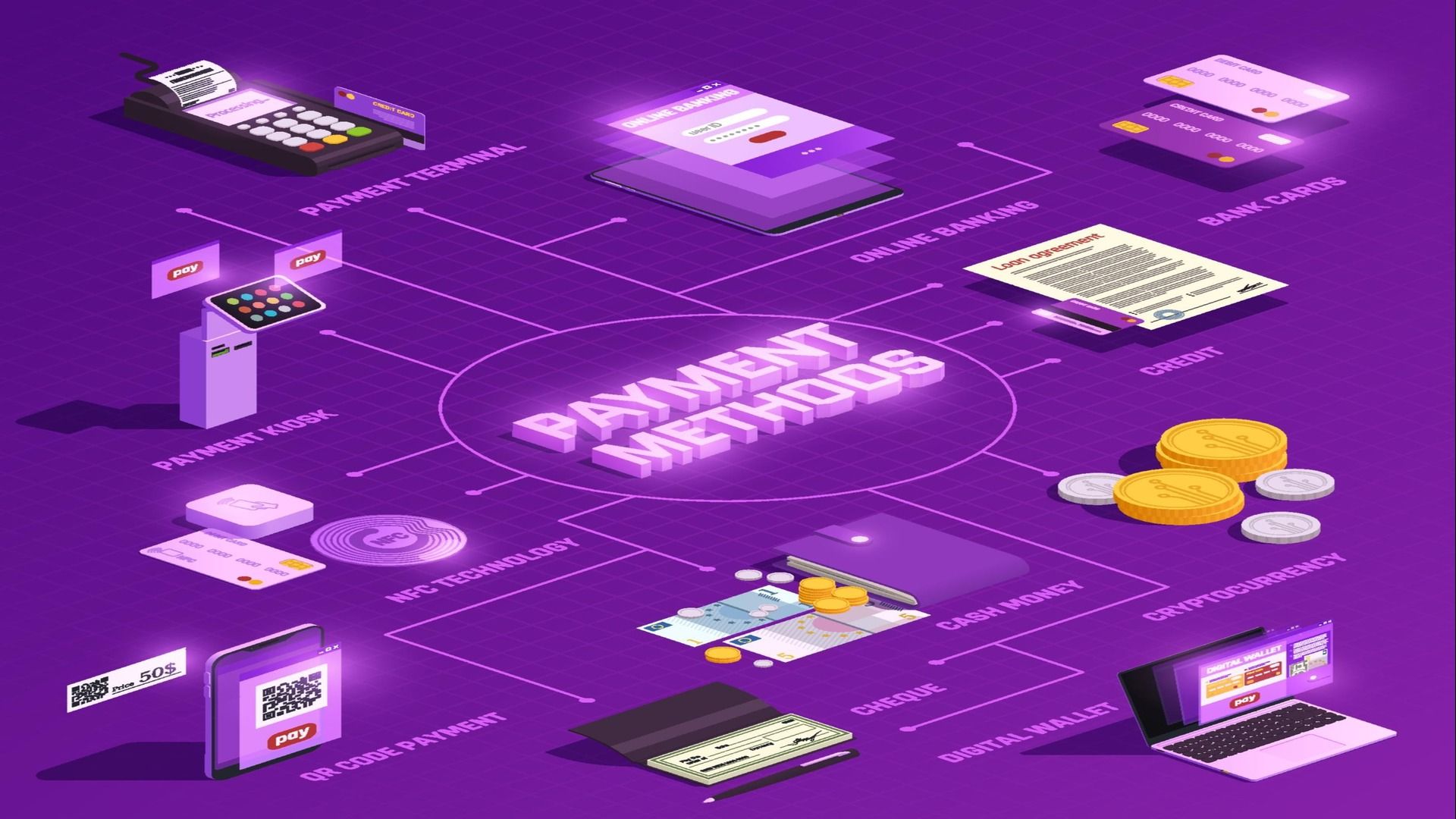 Different Types of Payment Systems
By Jupiter Team · · 6 min read
Businesses can accept payments in different ways, which include cash, card, and cheque payments. Moreover, advanced methods like digital fund transfers, mobile payments, and other online payments are becoming popular by the day.
Today, customers expect speed, wider choice, higher security, and ease of use while making payments. However, business owners may be spoilt for choice with a wide range of accepting payments that are available today.
Different Types of Payment Systems
Traditionally, users preferred card payments for their purchases. Although these are some of the safest methods, several other safer, quicker, and simpler alternatives are now available.
Here are the various types of payment systems to choose from.
Cash
Cash was the most common method used by consumers to pay for their purchases until the coronavirus pandemic hit the world. It is preferred to make small payments like a train ticket or paying for a bar of chocolate from the corner store.
Cash payments help people to keep track of their expenses and cut back if required. However, they may need to visit the Automated Teller Machine (ATM) or the bank to withdraw the cash, which may be slightly inconvenient.
Cheques
This mode of payment is gradually becoming redundant as newer and more convenient options become available.
A cheque is a paper voucher linked to the holders' bank accounts and commonly used by traders or for bill payments.
Users can issue a cheque to the vendors; however, it is important that they have the required amount in their account for its clearance.
Debit card payments
Debit cards are linked to the holders' bank account. When the users pay for their purchase with these cards, the amount is debited from their account and transferred to the vendors' accounts.
There are three primary types of cards, which include Visa, Maestro, and MasterCard. Debit cards are an alternative to carrying cash.
Credit card payments
These are like debit cards; however, the difference is that the users enjoy a certain credit period. This means they can pay for their purchases now and repay this money later.
Credit cards come with a pre-determined limit, which is the maximum amount they can spend.
This can be a beneficial option to split the cost of high-value purchases but there is the risk of users spending more than they can afford and later struggling to pay the bill.
Prepaid cards
Prepaid cards are another cash alternative and can be used as a debit or credit card.
The difference is that a certain amount is pre-loaded to the card and users pay the required amount until the limit is exhausted. Prepaid cards eliminate the risk of over-spending but may come with certain fees.
Contactless payments
Such methods are gaining popularity because of their ease of use and faster completion of transactions.
Using the near field technology, users simply tap their cards over the reader to complete the payment. Consumers can use credit, debit, or prepaid cards to pay for their purchases.
Offline bank transfers
People in remote locations may not be able to use online methods to make payments due to a lack of connectivity or knowledge.
Offline bank transfers via National Electronic Funds Transfer (NEFT) and Real-Time Gross Settlement (RTGS) are available. They may visit the nearest branch to complete the payment.
Electronic bank transfers
These transfers are used to move funds from one account to another via online networks. Such transactions replace paper-based transfers and human intermediaries.
The payments can be made to the same bank or different institutions. Such transfers only require a working bank account.
Online banking
Online payment methods can be used to pay for all types of purchases. Before using this service, users have to sign up with their banks. Once this is done, they can pay any amount to anyone directly from their accounts.
Users can also set up standing payment instructions and direct debits to friends, family, or businesses.
Email
Another quick and simple method for online payments is clicking on the link received via email. The vendors create the payment link and send it to the customers who can use it to complete the transaction.
The customers are directed to a secure page to make the payment. These links accept payments using debit or credit cards.
Other alternate online payment methods
Buyers can also choose from some of the best online payment options, which include the following.
PayPal
It is an online payment processing company and is a way to send and receive money. The company offers two types of accounts: personal and business.
The rules and charges vary based on several factors, such as transaction amounts, currencies used, and type of account.
Generally, buyers do not have to pay any charges to make purchases. However, merchants accepting PayPal payments may have to pay the necessary transaction fees.
Amazon Pay
The online payment service was launched by Amazon in 2007 for its users. When users sign up for this service, they can pay using their Amazon account when they purchase on Amazon or certain other external merchant websites.
Google Pay
It was formerly called Google Wallet. Popularly known as GPay, it is Google's online payment platform. The app can be used on smartphones, watches, tablets, and other smart devices.
With this option, users can make in-app or tap-to-pay payments through qualified merchants.
Apple Pay
Apple's online payment system allows users to pay in person, online, or through apps using their Apple devices. These include Mac computers, Apple Watch, iPad, and iPhones.
This payment option does not need Apple Pay-specific terminals and works with all merchants accepting such contactless payments.
Bharat Interface for Money (BHIM) app
The BHIM app allows users to pay via Unified Payment Interface (UPI) applications. The transactions are completed via Virtual Payment Address (VPA).
They can link one or more of their bank accounts with the app. It can be used by any individual having a mobile number, valid bank account, and debit card. Payments can be made to other bank accounts, Aadhar numbers, or virtual addresses.
Several banks have collaborated with the National Payments Corporation of India (NPCI) and BHIM to allow their customers for using this interface.
USSD
Another digital payment option is the Unstructured Supplementary Services Data (USSD), which allows transactions without mobile requirements.
It is backed by UPI and USSD and the primary aim is to include the underserved population in the society and integrate them into mainstream banking services. Users can initiate fund transfers, which are also available in Hindi.
UPI
Unified Payments Interface (UPI) is an interoperable payment option allowing users having a bank account to send and receive money via any UPI-based application.
Users can link more than one account using their smartphones to make seamless payments. The biggest advantage of this option is that it does not require a bank account and Indian Financial System Code (IFSC) details. UPI-based transactions have no service charges.
E-wallets
E-wallets are types of digital wallets that store users' bank account and credit or debit card details in an encoded format for secure payments. Users can also add money and use the balance to pay for their purchases.
Some of the popular e-wallets include Paytm, FreeCharge, and Mobikwik. Several banks and private players offer such wallets.
Mobile banking
Mobile banking allows users to complete multiple transactions via their smartphones. The use of digital banking is increasing as financial institutions offer online wallets, digital transfers, and other features like UPI.
Several banks have their apps, which can be downloaded. These apps allow users to execute several transactions including payments with a simple click of the button.
Point of Sale (PoS) terminal
Traditionally, PoS terminals were handheld devices used for reading bank cards. With digitalization, these services are now available through internet browsers and mobile platforms.
Some types of such terminals include physical, virtual, and mobile PoS. Most stores and shops use physical terminals while mobile terminals work via smartphones or tablets. Virtual PoS are web-based payment processing applications.
What Are the Benefits of Online Payment Methods?
Unlike offline payments, online payments are faster and more convenient, and available 24 X 7.
The transaction fees are lower, making it a more affordable option.
Institutions offer multiple discounts, waivers, and cashback offers.
Users can digitally store information about their transactions.
Online transactions curtail the prevalence of black money.
One-stop method to pay bills for electricity, mobile phone, internet, other utilities, and much more.
Rise of Digital Payments in India
India is experiencing a rise in digitalization and the last decade has particularly triggered its growth. It is still in a nascent stage and policy framework along with technology penetration is bringing in a lot of transformation.
Such payments are rising as larger players enter the arena with multiple offers like cashback and other rewards to bring in more customers. More affordable internet connectivity and increased penetration of smartphones are helping companies to increase their presence.
Customers are also realizing the importance and convenience of these digital methods especially since the demonetization and global pandemic. Since more people are willing to accept the new technology, it is increasing the prominence of the digital sector, which is growing exponentially.
India has the world's fifth-largest online user base and most of these customers use mobile internet, which is driving the growth of digital methods to pay for purchases. New-age technologies like tap and pay, UPI, and e-wallets are further encouraging people to look beyond the traditional payment mechanisms.
The Internet is increasingly being used by people to conduct more and more transactions. They can pay for their purchases, repay their debts, and also access regular banking services via the internet.
Therefore, several alternate methods relying on mobile devices or web-based apps are replacing the traditional way of paying for purchases. Cash, cheques, and even card payments are slowly being replaced by the new technology-driven payment mechanisms.
In this article
Similar articles that might interest you!